*

Printable Information*
Reef Ball Mangrove Solutions, is a division of Reef Ball Foundation, Inc. and is a 501(c) 3 publicly supported non-profit that functions as an international environmental NGO. Our division's mission is to rehabilitate damaged mangrove ecosystems while promoting conservation through education and partnerships. Our focus is on mangroves that are directly connected to oceanic ecosystems...usually Red Mangroves. To accomplish our mission, we use Reef Ball technology, innovative red mangrove nursery systems, and we train communities to propagate, set up nurseries and plant mangroves. During our work, we use public educational opportunities to make people aware of the importance of protecting mangrove stands.
Mangrove restoration is an essential step in the campaign to protect and rehabilitate nearshore habitats. To be effective, restoration requires strategic planning, implementation, monitoring, and management. It involves renewing naturally established mangroves that have been lost or degraded and reclaiming their functions and values as vital ecosystems. Restoring these lost and degraded mangroves to their natural state is essential to ensure the health of the world's ecosystems.
Reef Ball Mangrove Division provides solutions using mangroves for breakwaters, natural groins, seawall protection, mitigation, and erosion control to NGO's, government agencies, private land owners, and potential nursery operators.
OUR METHOD
Reef Ball Mangrove Restoration Method
Restoring Mangrove Ecosystems in Challenging Environments
In challenging environments, or in areas where the normal tidal hydrology is disrupted, natural mangrove recolonization is compromised. The Reef Ball Mangrove Division has engineered a unique mangrove planting system that can be used for direct planting of propagules in areas of high energy.
Our system was specifically designed to address the threats mangroves are exposed to while in their juvenile stage. We also focused on keeping the costs down to make restoration efforts cost effective.
The system provides protection from high wind, wave action, floating/sunken debris and predators while promoting fast growth by providing a competition free, enriched environment and natural gibberellic acid pathway stimulation. It also allows for extended planting zones, making possible restoration efforts that aim to increase near-shore habitat.
WHAT WE OFFER
Reef Ball Mangrove Solutions Division offers an array of solutions to a number of different clients. To find out what we can do for you, select from the catagories below.
NGO's - Government Agencies - Private Land Owners - Potential Nursery Operators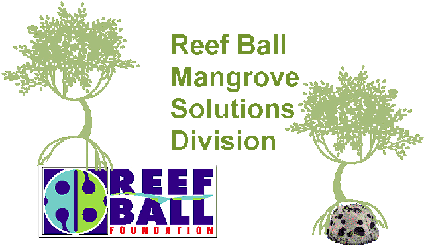 Copyright ©1994-2007, by Reef Ball Foundation, Inc. all rights reserved. See brochure footer for information on patents, copyrights, trademarks and service marks referenced, but not indicated, on this page.