Mangrove Restoration on Grand Cayman Island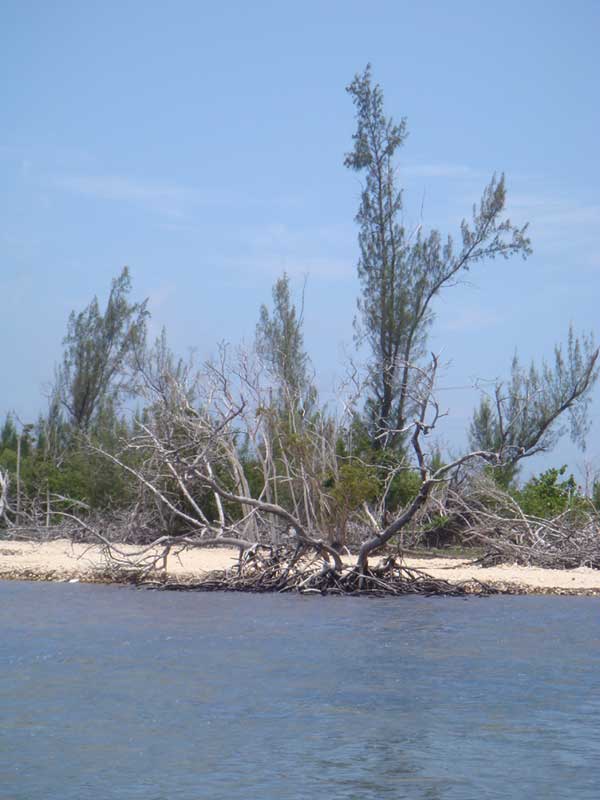 In 2005, hurricane Ivan hit Grand Cayman Island and devastated the island's red mangroves. About 80% of the red mangrove stands in the Cayman islands where lost. Coast lines that were once stablized and covered with these beautiful trees are now barren, showing only the occasional remains of red mangrove trees.
Not only does this situation leave coast lines more susceptible to erosion and degradation but it also leaves a void of habitat for a variety of juvenile fish and other sea creatures and deprives the nearby reefs of essential nutrients.
View more photos of the mangrove devastation..........
Overview
The Cayman Island's Department of Environment obtained a grant in additon to funding from the US Fish and Wildlife Service and the Migratory Bird Conservation for creating a Red Mangrove Nursery to replant red mangroves in areas lost to hurricane damage. Because some areas where stripped of natural "mangrove muck" and were exposed to waves, the mangroves could not restart themselves naturally. The DOE joined forces with Reef Ball Foundation's Mangrove Division to use small reef ball "mangrove planters" and a combination of international and local volunteers to restore the red mangroves of Grand Cayman Island. The project sucessfully planted over 1,000 red mangrove propagules, or "mangrove fruit," in to a nursery in just two weeks in November of 2006.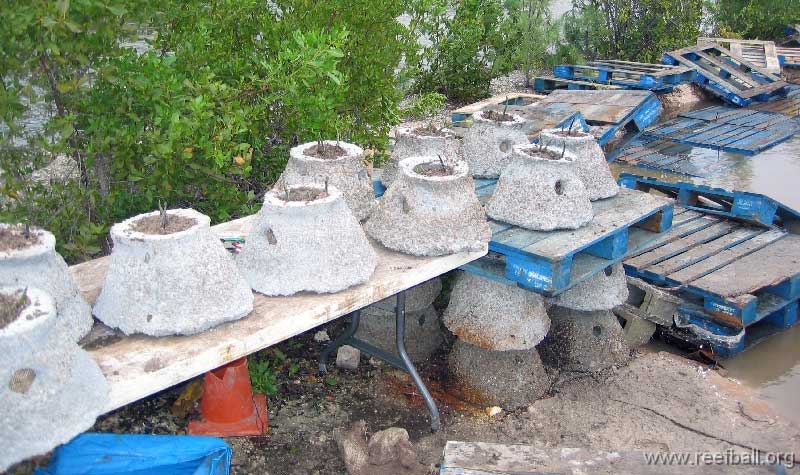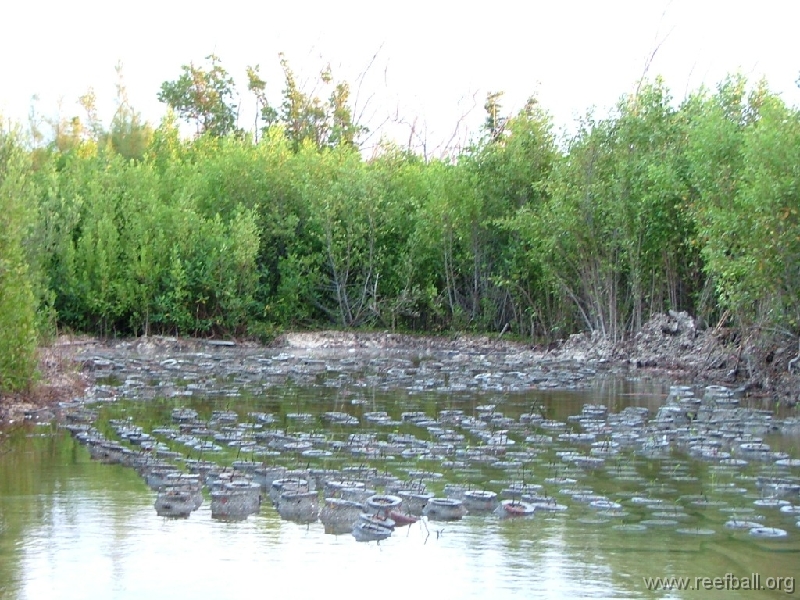 View more photos of the initial nursery set-up here.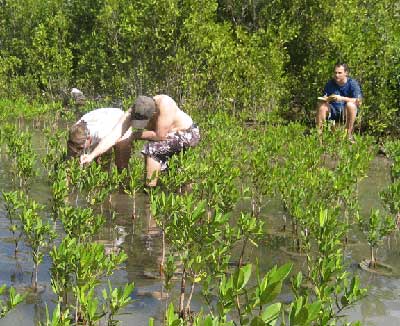 Our Mangrove Team returned to Grand Cayman several times during the following months to monitor the growth of the mangroves and to work on the development of a new direct planting method for red mangrove restoration that would bypass the timely and costly process of mangrove nurseries.
This direct plant method allows the planting of a propagule in a high energy zone by protecting the fruit from floating/sunken debris, wave action, and wind while optimizing the growth rate by providing the seedling nutrients and a cultivator pot in which a root mass can fully develop. During our most recent project, our Mangrove Team monitored this new direct plant View initial results from monitoring
method after establishing 3 test sites and we amazed that the growth and survivability of the mangroves. Only 4 months after dropping propagules down the wrack protector component of the system, young mangrove trees had already started to shoot out the top!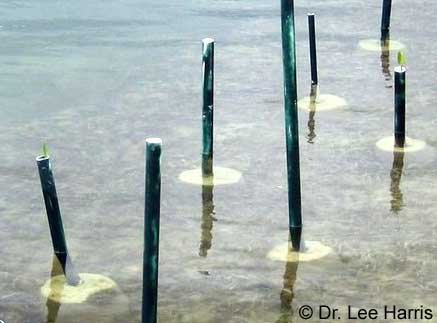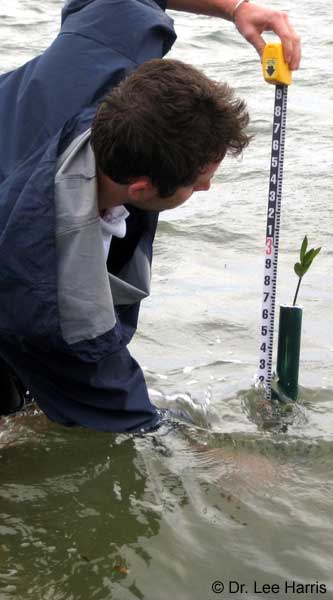 Learn more about our direct plant method
Restoring South Sound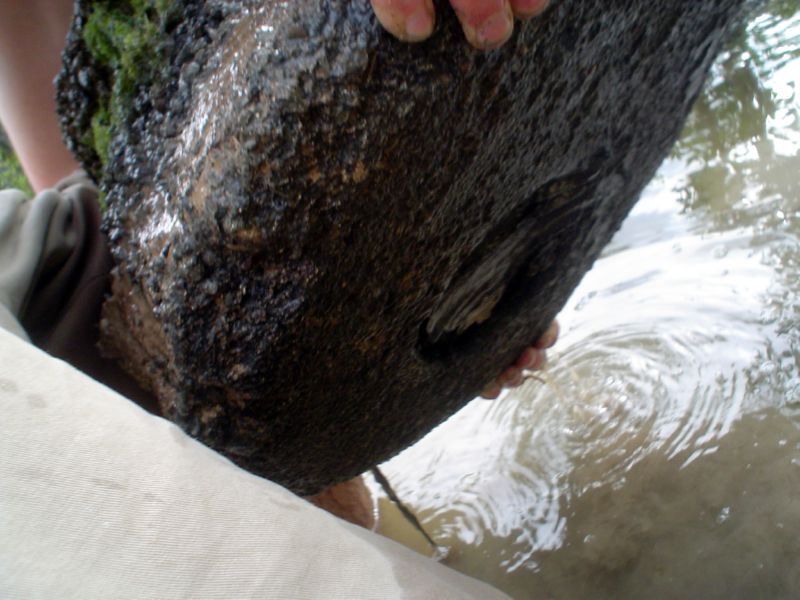 18 months after our Mangrove Team stocked the nursery at Cayman's Sailing Club the trees were ready to plant. A team when down and worked hand in hand with the Department of Environment, Cayman's Rotaract Blue Club and other local volunteers to plant the juvenile tree's in the South Sound of Grand Cayman, an area that was especially devastated by hurricane Ivan. The planting was successful, getting all 850 mangrove pots (well over 1,000 individual plants) in the water!
The paint lids on the bottom of the mangrove pots that were............................................................................. ............ ............. designed to encase the roots for 18 months were rusting away. ....................................... ................................. ................................ We had to work quick before the mangroves rooted in the nursery.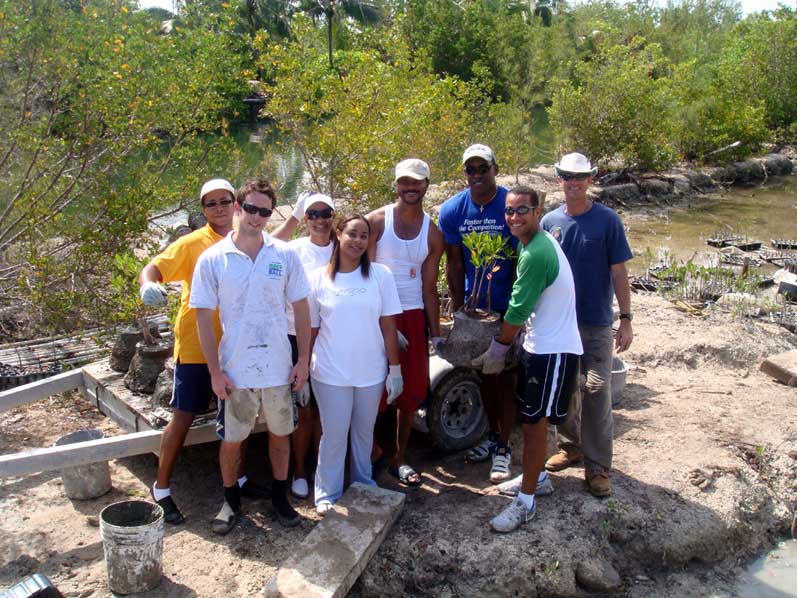 All along Grand Cayman's shorelines we planted and anchored the juvenile mangroves.
To track the growth progress, each individual plant was geo-referenced, and the locations entered into Google Earth. Feel free to check out this powerful tool, just download this Google Earth file and enjoy. (You need to install Google Earth on your computer before opening the file. You can download Google Earth for free earth.google.com/)
Grand Cayman Mangrove GPS Google Earth File
Volunteers- Tim Austin from Department of Environment and members of Cayman's Rotaract Blue Club (view more project photos)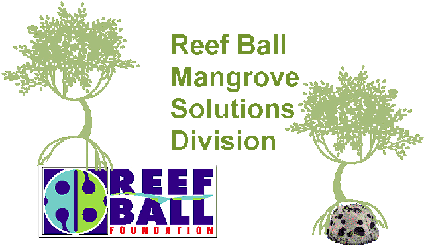 Copyright ©1994-2007, by Reef Ball Foundation, Inc. all rights reserved. See brochure footer for information on patents, copyrights, trademarks and service marks referenced, but not indicated, on this page.