Update! -Reef Ball's Jason Krumholz presents "Reef Safe" Fert Disc technology at the Estuarine Research Foundation meeting- view the poster here. ___________________________________________________________________________________________________________
ABOUT US
Reef Ball Mangrove Solutions, is a division of Reef Ball Foundation, Inc. and is a 501(c) 3 publicly supported non-profit that functions as an international environmental NGO. Our division's mission is to rehabilitate damaged mangrove ecosystems and to protect existing mangrove stands. Our focus is on mangroves that are directly connected to oceanic ecosystems...usually Red Mangroves. To accomplish our mission, we use Reef Ball technology, innovative red mangrove nursery systems, and we train communities to propagate, set up nurseries and plant mangroves. During our work, we use public educational opportunities to make people aware of the importance of protecting mangrove stands.
Mangrove restoration is an essential tool in the campaign to protect, restore, and increase nearshore habitats. Restoration is a complex process that requires planning, implementation, monitoring, and management. It involves renewing natural mangroves that have been lost or degraded and reclaiming their functions and values as vital ecosystems. Restoring our lost and degraded mangroves to their natural state is essential to ensure the health of the world's ecosystems. Reef Ball Mangrove Solutions Division will provide solutions using mangroves for breakwaters, natural groins, seawall protection, mitigation, and erosion control to NGO's, Government Agencies, Private Land Owners, and Potential Nursery Operators.
OUR METHOD
Reef Ball Mangrove Recovery System
Red Mangroves or 'Walking Mangroves' (Rhizophora mangle) are used by the Reef Ball Foundation in conjunction with reef restoration work because mangrove estuary systems work together with reef systems with a complex web of interactions. The roots of the Red Mangrove look like legs walking into the water which is why it is sometimes called the 'Walking Mangrove.' Red Mangroves are commonly grown by nurseries and their habitat value is well documented and appreciated by environmentalists. To stabilize the seedlings (propagules) in the ocean, one proven method uses split encasement tubes driven into the sediment. This method protects against the wrack line, however, it doesn't alone promote the optimal growth of the seedling. A solution combining this wrack protection and Reef Ball technology has been developed to ensure the fastest, healthiest, and most protected growth of the mangrove tree. This solution is ideal for numerous applications including erosion efforts, enhancing aesthetical aspects of property and fertilizer runoff filteration. This mangrove solution is currently available for beta testing in select locations. To find out how to apply to set up a beta test site in your area, contact us.
WHAT WE OFFER
Reef Ball Mangrove Solutions Division offers an array of solutions to a number of different clients. To find out what we can do for you, select from the catagories below.
NGO's - Government Agencies - Private Land Owners - Potential Nursery Operators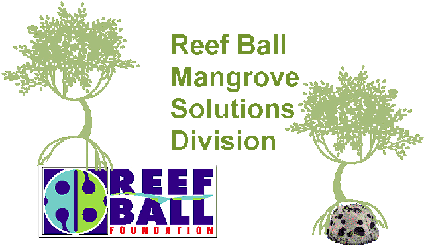 | | |
| --- | --- |
| | Copyright ©1994-2007, by Reef Ball Foundation, Inc. all rights reserved. See brochure footer for information on patents, copyrights, trademarks and service marks referenced, but not indicated, on this page. |